Since the previous Code Signing Certificate has expired at the end of 2017, AEB is switching all Java Web Start applications to an up-to-date Code Signing Certificate with the February 2018 service pack. This certificate ensures that you can be certain that you are running an application from AEB.
After installation of the service pack or after the maintenance weekend (for customers of the AEB data center), a notification will be displayed when you start your Java Web Start application for the first time: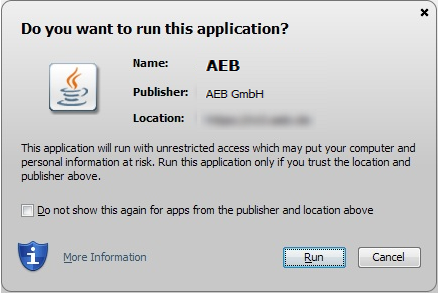 Please confirm this request once by clicking "Run".
Note: To avoid being displayed this message in the future, please check the "Do not show this again for apps from the publisher and location above" box.

Once you have done this, the message will not be displayed anymore.
You can then use the application as usual.
If your company is using a proxy server, please inform your IT department about this update. They will then also store the new certificate there which will prevent you from having to confirm the notification multiple times.
If you have any questions, please do not hesitate to contact the AEB Support team.